Overview of the cryogenic applications for ice cream, dessert and dairy industry.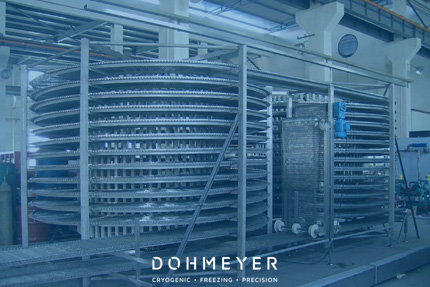 Dohmeyer developed a range of large capacity freezers, known as the OptifreezeTM freezers. Optifreeze is the registered trade mark of Dohmeyer, representing a unique Spiral Freezer concept.
Cryogenic tunnels use liquefied carbon dioxide (LCO2) or liquefied nitrogen (LIN) for continuous cooling and freezing.
Linear freezing tunnel with multiple superposed conveyor belts move the product backwards and forwards through the freezer.
Unique process to speed up the hardening of the fat glaze in cone products by and instant solidification of the chocolate layer. It improves the protective layer and increases the shelf life of the crispy sugar cone with 4 .. 8 months.